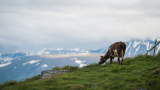 About TINE
TINE SA is Norway's largest producer, distributor and exporter of dairy products with 11,400 members (owners) and 9,000 cooperative farms. Our goal being to provide the consumers with food that provides a healthier and positive food experience.
The foundation for the future
We have seen the outline of our own successful expedition, the initial stage, over the past few years. But that is just the beginning. Our goal going forward is clear; to ensure the longterm future and finances of dairy farmers, and to work together with our customers and our community to ensure we maintain rich rural areas, food safety and sustainable use of resources in our country. We have seen and proven what we can achieve, but we also have to achieve it without the "pandemic effect". This will be our way forward.
– Gunnar Hovland, President and CEO
Here you will find the annual report for TINE SA 2021
Collaborative partners
TINE wants to create a healthier and more active Norway – we also want to contribute to culinary experiences. To fulfil these aims we need to reach people at a young age. Therefore we sponsor activities in which young people participate for the purpose of learning and experience.
Inspiration
We believe in inspiration through shared experiences, good teachers and good, motivating role models. TINE focuses on society and the environment through awareness, action and humanitarian work.
Our collaborative partners
A selection of our international assortment
A selection of our domestic assortment