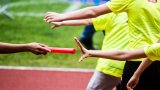 TINE Relay Race - The World's Largest Relay Race
The idea for the TINE Relay Race was conceived back in 1993 when the Norwegian Championship in Athletics was held in Tønsberg. Since then, schoolchildren from all over Norway have participated in what has become the world's largest relay race.
Each year approximately 100,000 young people from the 6th to the 9th grade meet at 260 sport arenas to run and cheer each other on in the TINE Relay Race. In 2011, the number of runners since 1993 reached 1 million, and 2013 saw a new record for the number of participants.
Ready – set – run!
TINE was contacted by the Norwegian Athletic Association, in search of sponsors for an athletic relay race in schools. TINE joined this collaboration to encourage increased physical activity and awareness about diet among young people. The Norwegian Athletic Association is responsible for technical implementation of all events.
Run and fun
Thanks to the work of teachers and other volunteers, TINE and the Norwegian Athletic Association have created a fun day with a focus on activity and maintaining a healthy diet.
2013 was the 20th anniversary of the very first TINE Relay Race. We celebrated the occasion with a relay race finale during the Norwegian Championship in Athletics in Tønsberg.