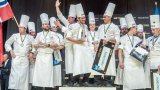 Bocuse d'Or Norway
TINE is proud to be a collaborative partner of the Foundation Bocuse d'Or Norway.
TINE has been sponsoring the competing chefs and collaborated successfully with Bocuse d'Or Norway (BOCN) for many years now. Norwegian master chefs have become a symbol of quality and creativity, and they are good ambassadors for Norway and TINE.
High international standard
Consequently, TINE sees the value of the Norwegian chefs continuing to show good results in various competitions, and wishes to contribute to the work of BOCN by developing qualified chefs of a high international standard.
Chef of the year
One of BOCN's main tasks is to identify and develop Norwegian candidates for Bocuse d'Or Europe and Bocuse d'Or Lyon. The foundation organizes the Norwegian Championship «Chef of the Year», and the winner participates in the Bocuse d'Or contests. By passing on knowledge and a passion for food, the association aims to contribute to the development of Norwegian food culture and the Norwegian catering sector. This includes acknowledgement of and the attractiveness of the profession of chefs, and consumers' knowledge of food and cooking.