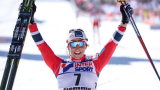 The Norwegian Ski Federation
TINE is the Norwegian Ski Federation's strategic collaborative partner and cooperates closely with different disciplines within ski sports.
One of the first sponsorship agreements entered into by TINE was with the Norwegian Ski Federation and female ski athletes in the early 1980s. The agreement was later extended to include male ski athletes.
Good ambassadors
TINE wants Norwegian children, young people and adults to eat healthier, be more active, and increase their knowledge about nutrition and training to get the most out of their exercise activities. The Norwegian Ski Federation has many good ambassadors who can contribute to achieving this goal.
We work closely with the following disciplines: 
Alpine skiing
Cross country skiing
Nordic combined
Freeskiing