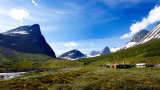 Cultural Heritage and Summer Mountain Pastures
Our long history of dairy farming is a journey through Norwegian cultural history.
Herdalssetra
The co-operation with Herdalssetra relates to our cultural heritage, our roots and the pillars of our business. The idyllic summer mountain pasture in Norddal is a World Heritage Site and has been in continuous operation for 300 years. It is home to several hundred goats and a cluster of over 30 ancient buildings.
Herdalssetra offers both its own homemade products and products from TINE. The goat's milk is mainly used in the production of Snøfrisk, but some is also used for traditional production of goat cheese.
As a guest, you can see how the white and brown cheeses were traditionally made. As part of the tour, the mountain pasture promotes a selection of cheeses from TINE (Jarlsberg®/Snøfrisk).   
Solbråsetra
Solbråsetra in Gålå is considered the place of origin of Gudbrandsdalen cheese. It was during the summer of 1863 that Anne Hov, a young milkmaid at Solbråsetra, thought of adding cream to the pan of 'prim'. The result was the «fat cheese» considered to be the forerunner of Gudbrandsdalen cheese. This cheese proved very popular in the late 19th century. At that time Anne Hov moved to the municipality of Nord-Fron, where she continued producing the cheese. In 1933 she received the King's Medal of Merit in silver in recognition of the role her cheese had played in the survival of other businesses in Gudbrandsdalen.  
The traditions live on at Solbråsetra. As a guest, you can experience history up close, meet the milkmaid and enjoy a taste of freshly-made Gudbrandsdalen cheese.
Rausjødalen
The dairy at the summer mountain pasture in Rausjødalen is the oldest dairy cooperative in Norway and Northern Europe. In 1856, 25 farmers gathered at Tolga in Østerdalen. They had been producing milk, butter and cheese on their own farms and in their own mountain pastures for several years, but now they wanted to join forces and produce Swiss cheese. However, they were forced to close down the business after only two years. Poor summer weather, which again resulted in terrible conditions for pasturage, cooperation problems and the long distance to market were some of the reasons for this. However, Rausjødalen is considered TINE's place of origin and the location that paved the way for development of the dairy cooperative in Norway.
It is important for TINE to maintain the mountain pasture traditions that are the foundation of our business, and so TINE contributes financially to maintaining the activities at Herdalssetra, Solbråsetra and Rausjødalen.