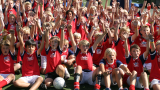 The Norwegian Football Association and TINE Football Schools
TINE has had a long and positive collaboration with the Norwegian Football Association and is a proud sponsor of the women's A-team and all age-specific national teams.
With this arrangement we are aiming to be a useful contributor to society by creating lifelong attitudes concerning nutrition and activity. The national teams have several great role models with good and healthy attitudes, which is important to us here at TINE.
TINE Football Schools
In 1998, TINE and the Norwegian Football Association started collaborating on TINE Football Schools, the Norwegian Football Association's official football school scheme. It is open to all clubs, and the clubs arrange the schools themselves.
The schools are organized mainly during the summer holiday for kids between the ages of 6 and 12 years. They run for 3-5 days, during which the kids play football and receive tips concerning exercise and nutrition.
70 000 kids participating
Every year, 430 TINE Football Schools are organized all over Norway. 10,000 instructors make sure that 70,000 kids experience quality sport in safe surroundings and that they receive tips on how to have a healthy diet. Play, wellbeing and developing skills are important elements.  
The TINE Football Schools scheme generates more than NOK 50 million for the clubs and contributes to strengthening recreational sports in Norway.