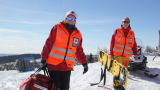 The Red Cross and TINE - «With surplus capacity to help»
We are proud to support the important work of the Red Cross through a collaboration entitled «Med overskudd til å hjelpe» (With surplus capacity to help). This collaboration creates understanding/comprehension and inspiration among all employees and owners of TINE to engage in voluntary humanitarian work.
TINE has been the Red Cross' main partner since 2003
In Norway, the collaboration revolves around the Red Cross Search and Rescue Corps and the activities of the Red Cross that focus on diet and physical activity among different segments of the population.
The Red Cross Search and Rescue Corps has tripled its number of rescue operations
The Red Cross Search and Rescue Corps has tripled its number of operations over the last ten years, from 350 operations in 2005 to nearly 1,000 operations in 2015. "Hesitation in asking for help has reduced. At the same time, the increase in the number of operations is because people have become more extreme. They now walk in tougher terrain," says Secretary General of the Red Cross, Åsne Havnelid.
Diet courses for minority groups
Since 2011, the Red Cross and TINE have been organizing diet and nutrition courses for different minority groups. Employees of TINE with expertise in nutrition have participated in Red Cross women's cafes in Oslo. At these events, women from minority backgrounds get together to discuss nutrition, diet and health. There has been a huge level of interest and need, and courses have also been organized in Bergen and Trondheim.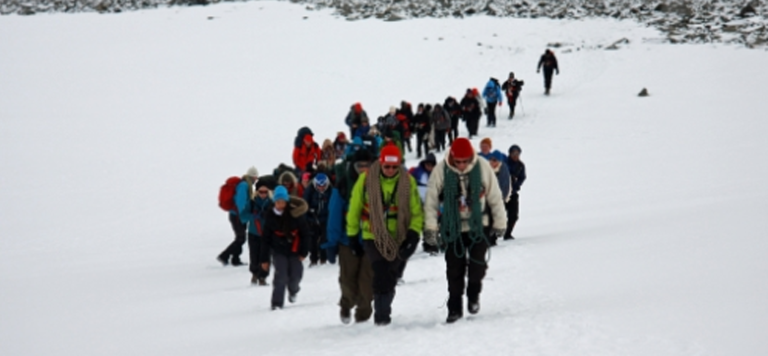 «To the top» - Norway's fittest integration event
TINE is also an important supporter of Norway's most active integration event «To the top». «To the top» is an event where multicultural Norway comes together with volunteers to hike in the mountains. There are several hiking opportunities, such as climbing the highest mountain in Norway, Galdhøpiggen, or walking in the area surrounding Lom.
Through «To the top», local hiking groups are established and they hike regularly in the period before the event. These groups are central to several activities both before, during and after the event itself. The participants get the feeling of progress/triumph, both by getting to know Norwegian nature and by getting in better shape. This is where you achieve your goals and establish new friendships. 
«To the top» contributes to general health through physical activity, the feeling of progress and the feeling of social belonging. In 2015, over 1,300 individuals from 40 municipalities signed up for the event.