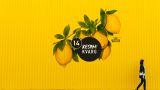 14
A range of healthier snacks for people on the go. Each product is made from carefully selected ingredients, combined to give you a healthy, tasty snack, whether you choose greek yoghurt, quark or porridge.
Variation and exciting flavours
Most of us like to vary our diet and not eat the same food every day. For that reason we have a number of different snacks in the 14 range. You can choose from:
Oatmeal porridge
Greek yoghurt
Kesam® quark
With nuts, grains, seeds and berries as a topping to create variation and exciting taste experiences.
All products in the 14 range are sources of, or are rich in, protein. As part of a healthy diet and an active lifestyle, protein contributes to building and maintaining muscles and bones.
> Read more about 14 (site in norwegian)