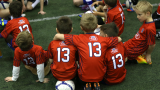 TINE Football Schools
TINE Football Schools is the Football Association of Norway's (NFF) official football school scheme and is a collaboration that dates back to 1998.
Important keywords for TINE Football Schools are quality sport, safe surroundings and focus on a healthy diet. TINE Football Schools are run by the clubs themselves, and any club that is part of the NFF can apply to run one. NFF delivers the content and ensures the quality of the schools.
Each school lasts for 3-5 days, during which the kids play football and receive tips on how to have a healthy diet.
Good habits
Through the collaboration agreement with the NFF, TINE is aiming to provide an opportunity for physical activity for the kids, and at the same time contribute to attracting greater numbers to the sport. TINE wants to be a driving force in establishing good habits at an early age when it comes to a healthy and varied diet, combined with physical activity through play and sports.