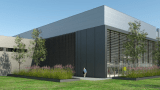 Project Update – Concrete Pour
As previously advised in our communication of 22 February 2019, we write to update you on Construction activities on site.
We are now into month eight (8) of the construction programme. The project is proceeding at pace in accordance with our overall project programme and we are still on target to complete construction works during the summer months. The steelwork/cladding and glazing facing the Castlemartyr road is now underway and due for completion later this month.
Mid next week it is our intention to commence casting the last of the concrete floor slabs. The floors are along the East of the building and are of 'superflat' construction supporting the Warehousing and Racking in that part of the building. Currently this activity is scheduled to commence at 0700 on the morning of the 19 March. The majority of work will be complete by 1730 each evening but the slab finishing will run through the night.
After consultation with BAM Building and Malachy Walsh & Partners, Consulting Engineers, we have put the following mitigation measures in place to greatly reduce the impact of noise/vibration during concrete placement operations;
Roof sheeting will be installed.
External wall cladding will be installed.
Curtain walling/Glazing will be installed.
Temporary blocking up of any opening on the East Elevation
Concrete mix being reviewed with view to adding accelerator to the concrete mix to reduce setting times – this will expedite concrete works on the day.
With all of the above in place the external envelope of the building will attenuate any noise greatly reducing the impact on you.
Due to the size of the building there will be 4 or 5 separate concrete pours starting on 19 March and completing on 27 March.
We will keep you updated on any other construction works that may impact you in the coming weeks.
Key contact persons
| | | | |
| --- | --- | --- | --- |
| Jerry O'Connor | MWP | Consulting Engineer | |
| Derrick Deane | BAM Building | Project Engineer | |